WHAT CAUSES SPEECH OR LANGUAGE DELAY?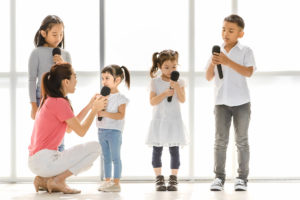 A speech delay might be due to:
an oral impairment, like problems with the tongue or palate (the roof of the mouth)
a short frenulum (the fold beneath the tongue), which can limit tongue movement
Many kids with speech delays have oral-motor problems. These happen when there's a problem in the areas of the brain responsible for speech. This makes it hard to coordinate the lips, tongue, and jaw to make speech sounds. These kids also might have other oral-motor problems, such as feeding problems.
Hearing problems also can affect speech. So an audiologist should test a child's hearing whenever there is a speech concern. Kids who have trouble hearing may have trouble saying, understanding, imitating, and using language.
 Ear infections, especially chronic infections, can also affect hearing. But as long as there is normal hearing in one ear, speech and language will develop normally.
HOW ARE SPEECH OR LANGUAGE DELAYS DIAGNOSED?
If your child might have a problem, it's important to see a speech-language pathologist (SLP) right away. You can find a speech-language pathologist on your own, or ask your health care provider to refer you to one.
The SLP (or speech therapist) will check your child's speech and language skills. The pathologist will do standardized tests and look for milestones in speech and language development.
The SLP also will check:
what your child understands (called receptive language)
what your child can say (called expressive language)
sound development and clarity of speech
your child's oral-motor status (how the mouth, tongue, palate, etc., work together for speech as well as eating and swallowing)